The Biggest Water Festival on the Planet
Songkran is among the most important of all the Thai festivals and holidays. It marks the beginning of the new year and the rainy season.
Officially celebrated each year on 13th April, but the festival actually takes place over a period of several days, beginning around the 10th April.
Are we having fun? Absolutely!
This really is the biggest wet festival worldwide and is celebrated all over Southeast Asia with millions of soaking wet participants. All over Thailand millions of people go out and soak everybody they can.
The wildest party is in Chiang Mai, along the 7km long moat of the old city. If you enjoy a good fully clothed soaking then this is for you. Book your flights early, as this often is also the Easter holiday in some countries.
When? Mid April, beginning of the rainy season.
Local times may vary. In some regions it can be from April 1st to 19th so check with local schedules. Allow for a few days afterwards when there are still some wet street parties.
Where? All over Southeast Asia. Sale of alcohol is banned in many areas as it causes too many deadly traffic accidents and drownings.

Why? Songkran is sanskrit for "Change". Pouring water over your friends and family is done as a blessing that washes away bad karma from the last year and brings joy and happiness for the new year. It is one of the most important festivals in Southeast Asia. Everybody dresses up for this wet fun event.
Happy Tradition
The Songkran Festival is celebrated in each city, town or village. During these days everybody gets soaked in the ritual blessings of pouring water.
If they see you walking around dry then you obviosly have not been blessed yet and they quickly take care of it. Only when you're soaking wet have you been fully blessed.
Songkran a nationwide fun party. They throw water with cans and hose pipes, and jump into the canals or lakes. They may push you into the water to ritually bless you with water in a rowdy celebration of the Thai New Year.
The water-splashing festivities stem from the Thai tradition of pouring water over Buddha statues in homes and temples to bring them merit for the New Year, and then dousing grandparents in perfumed water to bring them good luck.
Fun in the Streets
In recent years, Thais have taken the revelries out into the streets and now offer their blessings to anyone who comes within their range. Foreigners are not exempt and get singled out for a really good soaking.
"I don't think people will get mad," said 18-year-old Fu Kantha, just after drenching passengers in a passing bus. "Today they will forgive us." Fu and his cohorts take up positions on the streets in the morning.
Open-windowed public buses and motorcyclists are their prime targets. Taxi drivers help out by whizzing down their electric windows so attackers can douse their passengers. "It's fun to splash many people, that's why we throw water on the buses," Fu said, as he refueled his squirt-gun and bucket.
People in Bangkok were getting off easy. The natives of northeastern Thailand said that in the countryside nobody is spared a soaking, and many are even sprinkled with powder when wet. Everyone spends the day drinking and dancing. In the country villages they keep the traditions, so it's a lot of fun.
As teens and parents return from the traditional washing of the Buddha statues in the temples of Phuket, they bring out the high-powered water buckets and huge garbage cans filled with water. Then the real water fights begin.
The Songkran Festival is celebrated in every city, but the best is in Chiang Mai. During these days everybody gets soaked in the ritual blessings of pouring water. This then becomes a nationwide fun party. They throw water with cans and hose pipes, and jump into the canals or lakes, or push you in to ritually bless everyone with water in a rowdy celebration of the Thai New Year.

Clothing Tips for Songkran
Please dress well for the New Year Festival
Getting wet fully clothed is the norm in Thailand, especially during Songkran. People dress up for Songkran and wear good looking jeans and shirts. Some wear nice rain jackets or hoodies. The really love it when you pour water over these clothes or join them for a swim.
Please be polite and dress in nice casual clothes that you like to get wet in. The nicer you dress the more people will enjoy pouring water over you. Also remember, the sunshine is intense in Thailand.
Your clothes should be lightweight and multi-purpose. Only bring clothes that can double up as swimwear. They should look as good in the restaurant as they do in the pool or on the beach. Hoods are essential to avoid sunburn when swimming, as sun lotion washes off. Bring a thin cotton hoodie, maybe an anorak or poncho.

Dry is not an Option
The Songkran custom is to get wet fully clothed and you do well to respect that and join them. If you're seen in dry clothes on Songkran, it means you haven't been blessed with water.
The local people will quickly put that right by pouring water over all your clothes until they are dripping wet. If you're lucky you get thrown into the water. Now you're ready for the new year.
Wet All Day Long
During Songkran you will be outdoors in wet clothes all day long, sweltering in 40°C heat. Make sure your clothes fit well, both wet or dry. Try them in your bath or shower, then in a pool or open water.
Above all make sure your clothes fit well and don't chafe when wet. If you get chafed, you will be most uncomfortable and may risk infection. Always wear a long hooded shirt and long underwear to avoid chafing.

Recommended Outfits
T-shirt, Jeans and Hoodie
Most locals wear jeans and long shirt when they go to "play water". A hoodie or hooded anorak or jacket comes in handy when you're sensitive to the sun.
Jeans and Jacket
This outfit is popular among visiting foreigners and some locals. The main advantage is the robust fabric. If you play it wild, jump into the water and climb out all the time, this outfit is best for you. There are now jeans hoodies available. Designed like a hoodie but made from denim, they look and feel really cool when wet.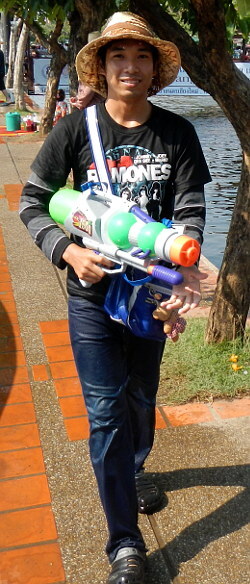 Hats avoid sunburn.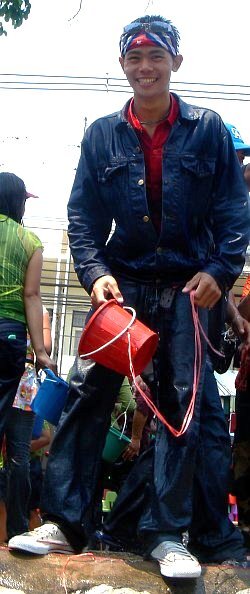 Jeanswear is very popular.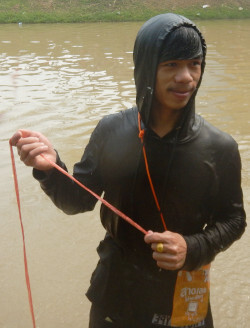 Wet hoodies keep you cool.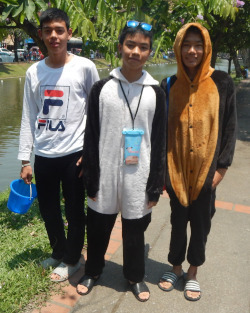 Onesies are recently more popular for Songkran.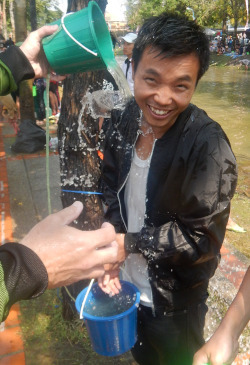 Rain clothes attract water.
Rainwear and Ponchos
If you really want to be targeted for a good soaking by the locals, wear some waterproof clothing, like anoraks or ponchos. Combine it with thin rain pants if you wish to be teased and soaked a lot. It's just like asking for it.
Songkran revellers see waterproof clothes as a challenge, grab your collar and pour a bucketful of water inside your anorak. When you go into the water, they may come up to you and touch you, as a poncho in the water is a novelty.
Anoraks and rain jackets are becoming more popular with the locals. They are more lightweight to swim in, provide good sun protection and glisten in the light when wet.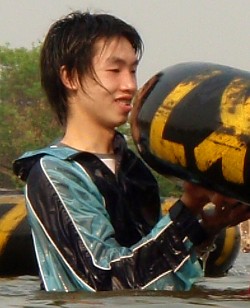 Anoraks are lightweight bathing clothes.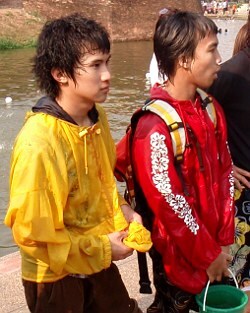 These anorak boys got thrown into the water a lot.
Meet Your Thai Companion
Many locals want to be your companion as it bestows high status to them among their pals, and allows them to travel. A companion helps you find your way around Thailand. They know their area, speak the language, show you sights you would otherwise not see, and keep you from getting over-charged or ripped off. Not only do you save some money that way, you also make someone very happy. Hotels charge per room, not per person. It won't cost you more if you share a room.
Avoid Moneyboys and Moneygirls
They can be expensive and most only stay with you for a short while. Although it is practically the mainstay of their tourist industry, prostitution is technically illegal in Thailand, especially for under 18 year olds. The bars and night clubs usually operate by making helpful contributions to their friends in law enforcement.
Professional Friends
Tour guides provide helpful services to visitors for a modest fee (around € 10-20 a day) but don't always speak much English. Your compensation for their efforts over a week or two will keep them housed and fed for over two months. Please accept their offers if you're not hooked up with a student. You are really making a difference. They rather go on holiday with you than sweat in a factory all day.
When you arrive at the beach they will choose you before you even know they are around. In the low season (April to October) there will be fierce competition among them to catch one of the few tourists available. You may find several coming to you at once, wanting to meet you. Choose the one with best language skills.
Students and Genuine Friends
Most students speak fairly good English. Often students want to meet foreigners (Farang) to improve their language skills. They also like to travel but usually can't afford it. So they ask if they can go with you. They can become long time friends. Treasure them.
Make contact well before you travel to establish a rapport on facebook.com and such sites. You'll be surprised how open and direct some of them discuss intimate subjects.
You may find you are too young for some of them. Many Thais want to meet more mature westerners who tend to stay with them longer. Younger travellers have a 'Butterfly' reputation, as they often hop from one partner to another.

Find a Real Friend
You are better off when you find a genuine friend. They may stay with you for years and you both have a great time getting wet together in the sea, lakes, and waterfalls. Be approachable and they will find you soon. Remember to be polite and smile.
Typical Conversation
Where you from? You alone?
Easy questions to start a conversation.

What your name?
They will then tell you their nickname, usually one syllable, like Lee, Nui, Nueng, Tee or Wut. This name was given to them by a Buddhist monk when they were born, or they made it up.

What you like? You like boy? You like girl?
Give an honest answer. If necessary they introduce you to a friend of theirs.

Where you go?
Can also mean: How are you?

I go with you!
You have been chosen and they ask your permission to be your companion.


When you ask what they'll do after you went home, they may say: "Look farang." They'll find another foreigner. That's what they do. Get real about this.
Overnight Guests
Most hotels ask for overnight guests to leave their ID cards at the reception, and the reception will call your room when your friend leaves to check that everything is alright. This also protects you from scams by underage kids trying to blackmail you.

Remember that the age of consent is 18 for boys and girls. Always check your new friend's ID card. You don't want the responsability of travelling with a minor.