Make a Splash Fully Clothed
Welcome to the ultimate wet and wild website designed exclusively for thrill-seekers like you! Get ready to dive into a world where wet clothes equal endless excitement!
Get ready to immerse yourself in a world of thrilling water adventures and exhilarating wet clothes escapades! Picture this: swimming while rocking your favorite outfits is the hottest trend among the coolest and most stylish folks out there. It's not just a hobby; it's a thrilling sport that's gaining popularity by the minute. Trust us, you won't want to miss out on this incredible adventure!
Imagine the benefits!
By regularly practicing this awesome activity, you'll not only enhance your strength and fitness but also become a real pro at swimming in style. Plus, here's a bonus: your clothes act as the ultimate shield, protecting your skin from scorching sunburns and pesky jellyfish. Isn't that amazing?
But wait, there's more!
Soaking your clothes isn't just about staying safe and fit, it's an absolute blast that you can enjoy anywhere. Whether you're outdoors exploring nature's wonders or chilling at home with your crew, this unforgettable experience will leave you exhilarated and craving for more!
We're beyond thrilled to share this exciting wetsite with you. Our team has poured their hearts into creating an incredible hub where you can find all the wet and wild inspiration you need. So what are you waiting for? Take the plunge, dive right in, and let the wet adventures begin! Get ready for the time of your life! Jump in! ~Felix

Wacky Wet Forums
News Splash
Alwyn Inga joins Wacky Wet World
We are delighted to have the talented fashion photographer Alwyn Inga, also known as AI, on board to help us capture the latest swimwear fashion trends through his lens. Alwyn's expertise in image editing and post-processing helps bring out the best in every shot, creating a stunning visual display of fun in wet clothes.
Alwyn's creativity with clothes in the water is unparalleled, and he has an innate ability to make every outfit look effortlessly natural and sensible. His photographs show the carefree spirit of individuals enjoying their clothes in the water, capturing the essence of the beach or pool lifestyle and evoking a happy, laid-back vibe.
From colourful hoodies to trendy anoraks and capes, Alwyn's photographs showcase the latest water clothing trends, making it easy for fashion enthusiasts to stay up-to-date with the latest styles. His unique perspective on wet fashion helps us appreciate the beauty of each garment.
Alwyn's work exudes a joyful attitude, capturing the fun and excitement that comes with wearing beautiful wet clothes. His portraits showcase the camaraderie and affection shared between friends and lovers as they frolic in the water, making wet clothes fashion and fun go hand in hand, and highlighting the beauty and grace of each piece of clothing.
Overall, Alwyn's photographs of watersports fashion capture the essence of a wet lifestyle, inspiring us to embrace the laid-back attitude and enjoy the beauty of the water. He's been swimming in clothes since childhood, encouraged by his parents. This experience clearly shows in his work.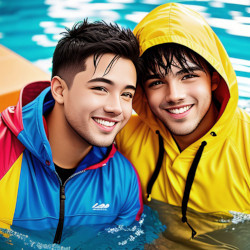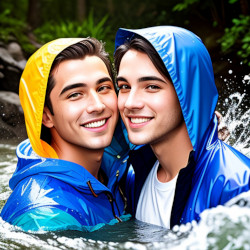 Reader Feedback
This place is buzzing with reader comments that will make you want to dive right in!
Share your personal experiences of epic watersports and daring encounters with wet weather. We're talking about swimming in trendy anoraks and cool cagoules, cycling like a boss in awesome rain capes, and even swimming in the hottest clothes around. It's a wet and wild ride, and everyone's invited!
But here's the best part: Your feedback is what keeps this blog pumping with excitement! We're all ears and eager to hear your thoughts. Have a suggestion for a mind-blowing topic you want us to cover? Or maybe you've got a daring experience of your own that you can't wait to share? Don't hold back. Let us know, and let's make this adventure even more unforgettable!
So join the party, my friends, and let your voice be heard. We're here to bring you the most thrilling stories and experiences you can imagine. Together, we'll create a community of fearless water enthusiasts and fully clothed swimmers. Get ready to make a splash and share the excitement. This is where it all begins! ~Alwyn